Chicago Steering Committee
The Chicago Paris Cabaret Connexion was founded by Claudia Hommel, Elizabeth Doyle and Lynne Jordan. Kat Victoria helped Claudia and Elizabeth lead the delegation of a dozen singers to Paris. Natalja Aicardi, Barb Smith, Roxane Assaf-Lynn and Cappy Kidd offered essential assistance in coordination, recruitment and fundraising.
For 2018, we begin with four coordinators—Greta Pope, Rebecca Toon, Claudia Hommel, Elizabeth Doyle—with the assistance of Lydia Stux, Barb Smith and Cappy Kidd.
Participants 2017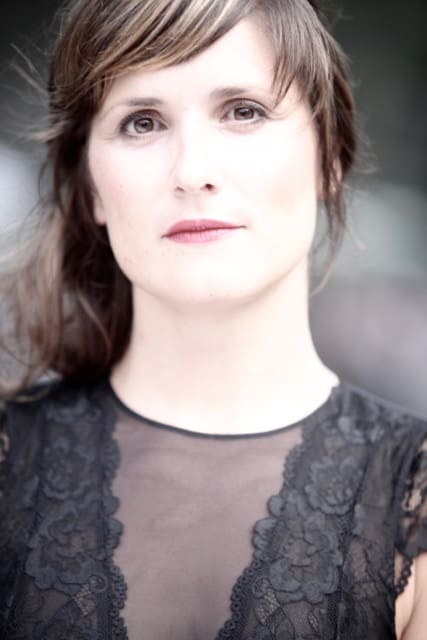 Italian theater creator, dancer, singer, teacher and reiki healer, Natalja Aicardi has worked as choreographer for musical theater, new operas and children's theater, for the Theater Building Chicago, Caffeine Theater, Stockyard Theater Project, Chicago Opera Vanguard, Chicago Fringe Opera and Northwestern University. In 2014, she was the recipient of the Chicago Department of Cultural Affairs "In The Works" Residency at the Chicago Cultural Center and developed/performed her own original work.
Natalja graduated from the School For Theater Creators in Chicago. Dancing both on stage and film, she has devised and performed physical theater mask works for IO Theater, Stage 773, Revival Theater and Navy Pier. She has also sung with Alan Gresik's Swing Shift orchestra at the Green Mill Jazz Club and the Chicago Summer Dance Festival. She dances for Lin Shook's Perceptual Motion Inc. Most recently, she has written, performed and directed a solo physical cabaret based on the legend of the Selkie (the seal woman).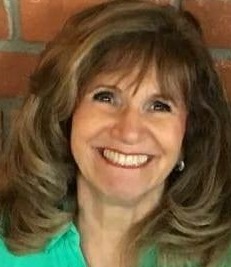 As Sue tells it, "I have been a singer most of my life but mostly without an audience. I am always singing (mostly Broadway and Standards); if I hear someone speak a phrase that I know in a song, I can't help but start to sing. I have appeared in several community theater productions, and in the past couple of years, I have expanded my experience to include singing for an audience. I have been working with Claudia Hommel in her SongShop for a few years, and this has had wonderful benefit and impact on my progress. I have had a handful of performances at senior and rehabilitation centers, and I perform at karaoke venues from time to time. While in Paris in April 2017, I performed the French lyrics I wrote to the song "It Had to be You" at Café Universel."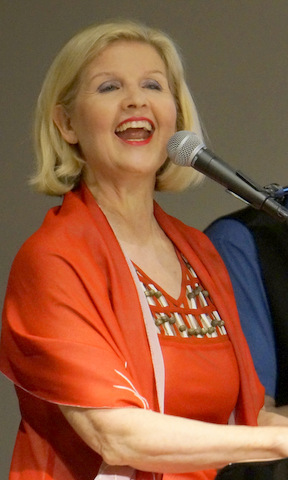 The magnet for many years at Chicago's famed Pump Room, singer-pianist-composer ELIZABETH DOYLE has created, performed in, and often music directed an array of shows at Chicago's major cabaret rooms and theaters. A featured guest on Marian McPartland's NPR program Piano Jazz, Doyle's compositions have been featured in New York ASCAP programs, at the Paradiso in Amsterdam, and at Disney/ASCAP in California. Her musicals include Sleepy Hollow, Fat Tuesday, Alice In Analysis, Burnham's Dream, Treasure Island, and Duo. She has two CDs: Elizabeth Doyle and Time Flies. "Elizabeth Doyle is one of Chicago's most captivating performers."—NPR Piano Jazz
Elizabeth will lead the November 2 Songwriters Connexion concert and performs for several Razzle Dazzles. www.elizabethdoylemusic.com.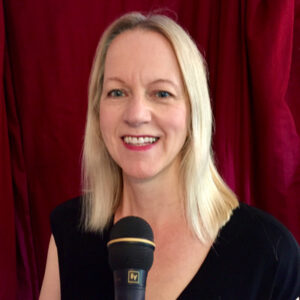 Deborah grew up in a musical family of five sisters and remembers fighting over whose turn it was to play the piano. All five "Good" girls blossomed into musicians and performers. Deborah enjoys singing and accompanying herself in a variety of styles, and names Edith Piaf and Carole King as her inspirations. A linguist who enjoys speaking and singing in both French and Spanish, Deborah has performed in several countries including Switzerland, the Netherlands, and Chile. Although she has been to Paris eight times, this is her first time there as a "chanteuse." She is thrilled to experience the world of cabaret in the place of its birth.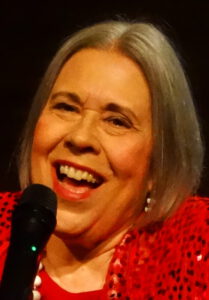 Carrie joined Claudia Hommel's SongShop in September 2010 after retiring from her position as a Staff Attorney with the U.S. District Court. Since then, she has appeared in shows at Cyrano's Bistro, the Jazz Showcase, the Daystar Center, DePaul School of Music, and Piano Forte. She also performs in Claudia's Sunday Salon Series. Carrie made her debut at Davenport's Piano Bar and Cabaret in the Chicago Cabaret Professional's 2011 Holiday Cabaret and appeared in CCP's Strut Your Stuff in 2014. She performed in the Rotary Near South's benefits Broadway on the Cusp! in 2013 and in Broadway for the Hoi Polloi in 2014. In November 2013, Carrie performed her one-woman show Songs in the Key of Oz at the Daystar Center. She sings in the University of Chicago Chorus and serves on the Board of the Chicago Children's Choir. She was President of the International Wizard of Oz Club for the past seven years.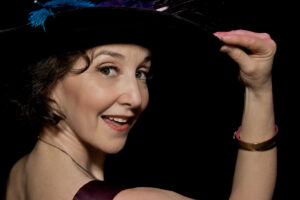 Claudia Hommel brings to student and adult singers more than four decades of stage and song career. She approaches each student and each song with insights and energy that come from her own studies with international singer Martha Schlamme, actor/director Alvin Epstein, music director Steve Blier, voice teachers Roberta Vatske (New York), Carolyn Grimes (Detroit), and recently Stephen Smith (Northwestern), Elisabeth Howard and Christine Steyer; Art Song sessions led by Dalton Baldwin, various Shakespeare workshops with John Basil and Stratford Players of Ontario, Meisner technique studio work, and modern dance with Norma Carter and Harriet Berg in Detroit.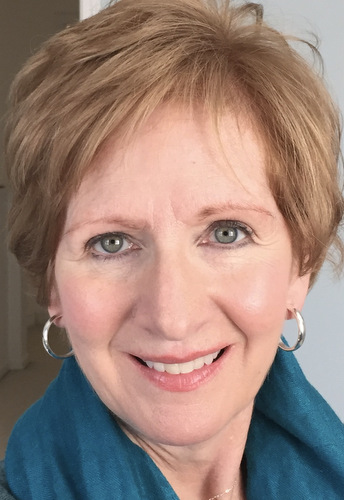 Mary has been singing since she was a child in choirs and whenever the opportunity presented itself. Her first starring role was singing "People" on the high school stage. After graduating from the University of Illinois, she worked for the U.S Congress. Aside from singing at weddings and piano bars, her career on Capitol Hill led to performing with the political satire group "The Capitol Steps." During her "15 minutes of fame" with the group she performed on radio and TV and for many dignitaries and politicians including President George H.W. Bush. Since moving back to Chicago and then retiring from her government job in international trade, she has returned to singing and taking classes at the Old Town School. She looks forward to singing the songs she loves in Paris.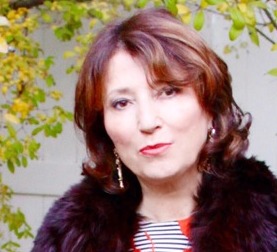 Marilena was born in Romania. From an early age, she had a special inclination toward the arts, but her true love was singing. As a child, she sang in her village church and school. At 17, she took voice classes in Bucharest and sang in school events, including an appearance on the national television music channel. At 19, her life went in a different direction (marriage, child) and at 36 years old, she emigrated to the United States to pursue her second passion: fashion, creating her own label and boutique Marlena Marée. However, wherever life has taken Marilena, her love for singing was always there and now years later she has decided to sing again, joining various piano bars in Chicago. She is taking classes at Old Town School of Folk Music, coaches with Elizabeth Doyle, and studies song interpretation with Claudia Hommel's SongShop.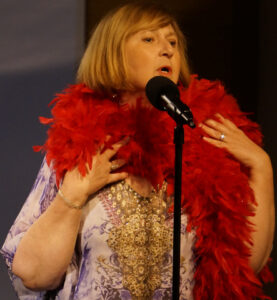 Barb has appeared in shows at Davenport's, Underground Wonder Bar, and Rosa's Lounge. She is preparing for an upcoming show at Chief O'Neill's on September 24th and another show at the Cliff Dwellers on October 13th. Her powerful alto voice is well suited to jazz, blues, and folk music as well as cabaret.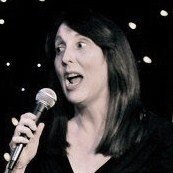 Lydia's background is primarily in musical theater, although she also enjoys singing folk music, novelty Tin Pan Alley songs and American standards. Her favorite roles include Grandma Tzeitl in Fiddler on the Roof, Mr. Twimble/Wally Womper in How to Succeed in Business without Really Trying, Dot, a Goose, in Honk!, and Yertle the Turtle in Seussical. Her adopted twin sons provide fodder for her blog, Raising Romulus and Remus. Although new to cabaret singing, Lydia has experience onstage telling a story in song.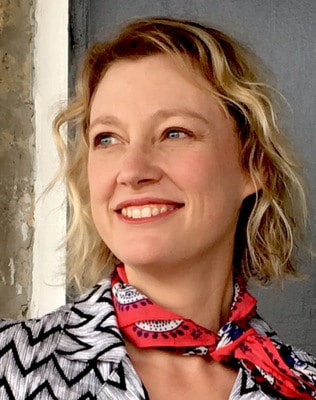 Rebecca has been teaching adults and kids at the Old Town School of Folk Music since 2004. She has a bachelor's and a master's in music from the University of Illinois, and is currently completing a Masters in communication sciences and disorders (speech language pathology) at Northwestern University with a primary interest in voice therapy. Her background as a vocalist is extremely varied, including musical theater, opera and classical solo work, choral work, and popular music. She has also worked as a vocal coach and director for musical and theatrical productions around Chicago. As a voice teacher, Rebecca believes in creating a solid foundation of technique and a firm understanding of how the voice works which can be applied to a variety of musical styles. As a guitarist, her interests and experience runs to old time, folk, country, and rock.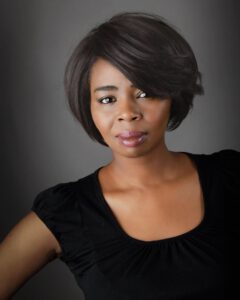 Kat Victoria, founder of SHE (Sisters Helping Elevate the Arts) is a writer, producer, singer-songwriter, recording artist and award-winning actor. Her written productions include: She Works Hard For the Money, All Love, Pearl, Legendary Ladies of Jazz and Swinging in the Holidays. Kat Victoria's original music can be heard on ITunes, Amazon and her official website katvictoria.com. Kat's theater background include: The Jackie Wilson Story Touring Company, The Other Cinderella, The Marvin Gaye Story, One Name Only and All In Love Is Fair at the Black Ensemble Theater. Kat is a proud member of APCA, BMI, the Actors Equity Association and Chicago Cabaret Professionals.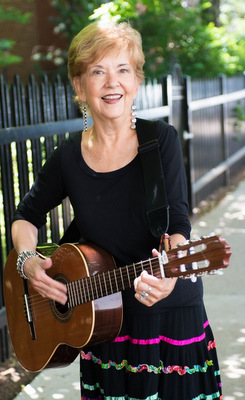 Carol sang and learned to play the piano and violin at a very young age. For many years, she's been a troubadour with guitar in hand, playing in schools and libraries. She's also been heard at Davenport's, Cyrano's, The Jazz Showcase, or playing the piano bar at the Drake Hotel or the Carlton Club at the Ritz. A founding member of the Chicago Cabaret Professionals, she has been able to live her dream of becoming a cabaret singer. She performs Life Is…Snapshots in Song and Thank You for the Music with Arlene Armstrong and Ruth Fuerst.
Back in Chicago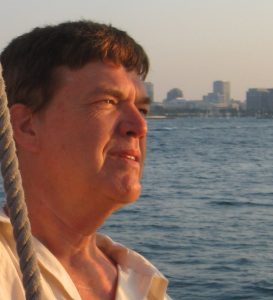 As secretary of the board, Cappy is the go-to person for fund-raising, outreach and logistics for Working In Concert. Cappy is principal of Informed Energy Decisions, an environmental services and engineering consulting firm. As a certified energy manager and independent consultant, he advises commercial and institutional building owners and managers, including supervising LED lighting retrofitting. In recognition of his contributions to improving building energy performance, he was inducted into the Environmental Hall of Fame and received an Energy Star leadership award for work at the Great Lakes Naval Training.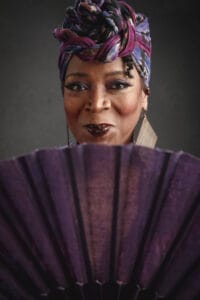 In a city (Chicago) brimming with classic blues and jazz divas, Lynne Jordan stands apart. Not only do her soaring vocals dip into blues, jazz, funk, rock, and even country but her bawdy personality has won over crowds. The late Chicago film critic Roger Ebert declared her his "favorite diva." Backed by her sizzling band The Shivers, Jordan developed into a Chicago institution, playing jazz and blues clubs, The Chicago Bluesfest, swanky lounges and even the charity circuit throughout the country. She brought her special brand of storytelling, raw humor, and performance to Chicago, New York, and Atlanta with her sold-out show, A Musical Tribute to Nina Simone.
Raised in a family of church-going singers in Dayton, Ohio, Lynne came to Northwestern University to study journalism only to change majors to theater and has been performing nonstop ever since. She has represented Chicago as an Arts Ambassador to Moscow and Kyiv, has graced stages throughout Europe and South America, and was featured in the Jazz Opera, Don't Worry, Be HaRpy by French composer Isabelle Olivier. The show returned to Paris for a third tour in June 2016. Lynne is currently featured live with the great Corky Siegel Chamber Blues—"an exhilarating experience!" In addition to her two CDs, Lynne is featured on recordings by Tom Waits, Urge Overkill, Toronzo Cannon and several compilations, most notably a tribute to Janis Joplin: Blues Down Deep: Songs of Janis Joplin which also featured Etta James, Otis Clay, Taj Mahal & Koko Taylor.
Singing in any genre or language, Lynne says, "It's the song and the story that matters." Stories inspire Lynne and she has gained a solid reputation in the Live Lit (Storytelling) community by performing monologues from her upcoming one-woman show: A GREAT BIG DIVA.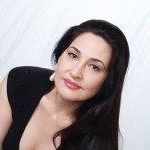 Roxane Assaf-Lynn is a classically trained mezzo with a taste for the American Songbook. A transition to cabaret singing fueled her creative ardor through the '90s, and now she uses her skills in journalism and promotion to raise the volume on the musical expressions of other artists, including articles in the Huffington Post and work as promoter and publicist. Born and raised in New Orleans, Roxane comes from a musical family that spans two continents. A university-year in Paris forged a life-long link to people and projects there. Roxane's recent concentration on social networking, community outreach and media relations combined with her own background in performance makes her a sought-after consultant and artistic collaborator.
Lake House Fundraising Concert, Lake Bluff